We have never lost a contestant while the show was still taping, but sadly this is a first. Bachelorette contestant 32-year-old Eric Hill died Wednesday after a paragliding accident left him in a coma over the weekend.
He was hospitalized in critical condition Sunday, after his parachute collapsed while paragliding in Utah.
He was transported by helicopter to a local hospital by a rescue team, where he remained in a medically induced coma until Wednesday.
On April 20th, Eric's sister wrote this on her Facebook page, "I know I don't post much, but if you happen to read this, please pray for my brother. He's in critical condition after a paragliding accident at Point of the Mountain in Draper, UT."
Early reports claimed that an unnamed man was paragliding with friends near Point of the Mountain in Draper around 3 p.m. on Sunday, when his canopy collapsed 15 to 20 feet from the ground, sending the victim crashing into the mountainside.
UFA Battalion Chief Brian Anderton told KTVU, "It doesn't seem like he fell an extremely long distance, but the velocity that he went into the hillside was enough to cause some trauma."
Six months ago Eric posted this photo of him base jumping in Italy with the caption:
"Silent bliss. The moment after the ground is no longer beneath my feet, but before the wind starts to rush. Monte Brento, Italy".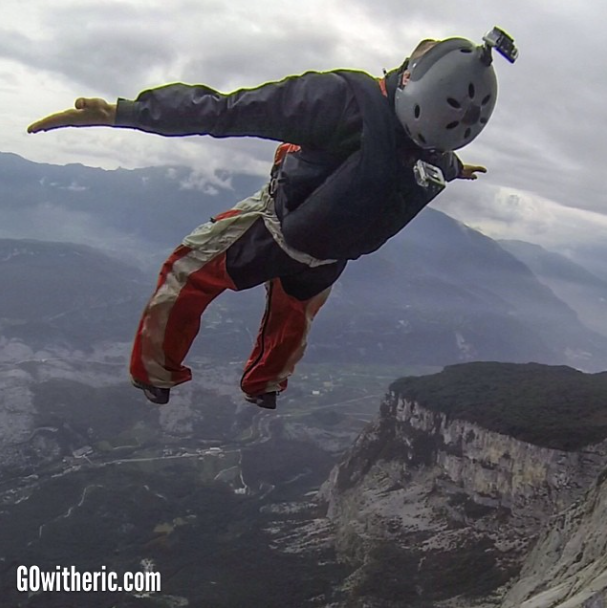 A Facebook update for his organization, The Global Odyssey, read:
"Friends: Eric has been in a horrible paragliding accident and is currently in critical condition in a coma."
On Wednesday his sister Karen Tracy shared that he had died.
"Eric shared his final journey with us this morning as all his immediate family were able to be at his side when he passed away," she wrote on her Facebook page.
"Thank you to all of your love and support and prayers and fasting. It was amazing to be with so many of his friends and family yesterday in the hospital who came to express their love for Eric. He gave us such a gift of a life fully lived and fully shared, and allowed us all to be a part of his last adventure here on earth."
"Although he was wearing all of the appropriate safety gear at the time of the accident, and is well-trained in paragliding, his parachute partially collapsed, sending him into the mountainside," reads an update on a BuzzFeed community page, created in his honor.
Eric was originally from Citrus Heights, California. He graduated from Brigham Young University in 2005 with a B.S. in Human Biology. And yes, Eric was Mormon.
He was filming a documentary, "The Global Odyssey", where he is trying to break the world record for visiting all 195 U.N. recognized countries by 2016. So far he has been to over 50.
Eric was most certainly an adventurer of epic proportions. He had been paragliding all over the world. Here he is in Italy 6 months earlier. He posted this pic with the caption: "Taking a moment to soak it all in before flying away. Monte Brento, Italy".
I will say it looks like Eric was actually a base jumper which is exponentially more dangerous than paragliding. I wonder if he was paragliding or base jumping in Utah?
More about his base jumping adventures around the world.
Base jumping aka Speed flying is the air sport of flying a small, fast fabric wing, in close proximity to a steep slope.
BASE jumping is an activity where jumpers jump from fixed objects and use a parachute to break their fall.
Other Bachelor cast members who have passed tragically…
A lot of jumpers BASE jump from a cliff in a wingsuit which is why it's also called speed flying and it looks like Eric did that on some of his adventures.
Here is one quote from his website about Base jumping:
"I had been to Italy before so I tried to see all new places. Last time I visited Trieste, Venice, Rome, Pisa and Bari. This time it was Rimini, Trento, Milan and a little mountain village called Lundo near the trailhead to the cliff I BASE jumped off for a few days."
BASE jumping is currently regarded as an extreme sport. In fact as of March 29th 2014 the online "BASE Fatality List" records 228 deaths for BASE jumping since April 1981.
Here is another quote from Eric about base jumping in Utah:
"After a few short days back in the US visiting some family in Chicago. I had some business to take care of and a BASE jumping parachute to pick up in Utah before I left the country again."
Regardless of how he died, ABC has never been in this situation before. We wonder how the show will cover this tragic story or if he will simply be edited out?
Funeral Services for Eric Hill will be held Saturday, April 26th in Salt Lake City.
span style="color: #0000ff;">Reality Steve says that Andi's final 4 rose ceremony is tonight. Has she been told?