David Norton — Married at First Sight — Bio — Wiki
Married at First Sight season 3 (2015)
Name:  David Norton
Age: 29
Occupation: Software account executive
Education: Iona College, BBA: Marketing, Marketing, 
High School: Amherst High School
Hometown: Atlanta, GA
Birthday: May, 1985
Brother: Brian Norton
UPDATE 2/16/2016: Looks like David has a pretty serious arrest record
From his A&E profile:
"A serial monogamist, David has previously been in a few committed relationships – with the longest one lasting two years. …..  A self-proclaimed romantic, David loves to shower women with flowers and surprise vacations. As he nears his thirtieth birthday, David has been feeling the pressure to settle down and start a family. His ideal mate would be someone who is athletic, adventurous and funny. Feeling confident that he is ready to be married and have children, David has put his full trust in the experts to find his future wife."
Twitter:
David has been single for two years. He was going to propose to his last serious girlfriend but she called off the relationship days before his planned proposal.
His dad died when he was 7 and was once a contestant on "The Newlywed Game."
He also mentors at risk youths who are entering their Junior year of High School.
Biggest fear: "That someone would feel a connection, whether myself or my spouse, and the other person wouldn't."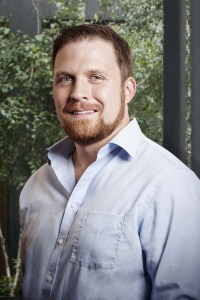 David is partnered with 30-year-old Ashley Doherty.
Please follow us on Twitter
Please like us on Google Plus
Like us on Facebook
Photo Source: A&E
Allegations that Ashley Doherty was just on the show to make an ex boyfriend jealous