It looks like Lala Kent really is moving on from from ex-fiancé Randall Emmett. Everyone knows nothing solidifies a breakup like removing a tattoo with your lovers name on it.
Thursday the 31-year-old Vanderpump Rules star, showed off a new modified version of her arm tattoo on Instagram which previously read 'Rand'. The tattoo on her right bicep now reads "bRand new".
The last time Kent was seen showcasing the original tattoo was in a Sept. 12 Instagram post, where she is seen longing in a bikini with her and Emmett's 8-month-old daughter Ocean in her lap.
And perhaps the tiny-ness of the tattoo was a reflection of Lala's confidence the relationship.
Get out your magnifying glass and look at her right bicep.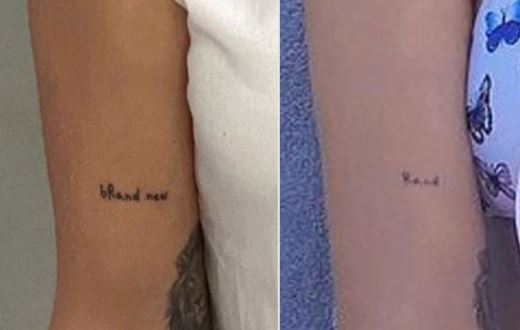 Rumors started circulating back in October after Lala scrubbed her social media of any images or traces of Randall and moved out and into the Beverly Hills Hotel with their 7-month-old daughter, Ocean.
The scrubbing came amid allegations that the 50-year-old movie producer cheated on her in Nashville with two unknown women.
Lala has since confirmed the break up on her
Give Them Lala…with Randall
 podcast earlier this month.
"I want to acknowledge that I'm sure everyone knows what is going on between Randall and myself and just in my personal life," Kent said.
"There will be a time where I feel comfortable enough to open up and share. Today is definitely not that day," she added. "It's been a lot, I'm going through a lot."
So now the task at hand will be how she can co-parent with the serial cheater. She previously said she's taking it "one day at a time," adding: "A 7-month-old can't sit around and wait for you to get over s—. You better keep your f—— head up and do your thing. So that's what I do."
"I just never thought that my life would be where it is right now, you know. And that's okay. That's totally fine," ….. "There's moments when I have a pit in my stomach and I need God to take over right now because it's too much. And he does."
It's hard to believe Lala could not see this coming given that her relationship with Randall began when Randall was still married to actress Ambyr Childers.