Lala Kent and Randall Emmett breakup after cheating rumors
Monday Page Six reported that Lala Kent and Randall Emmett ended their three year engagement after the 50-year-old movie producer allegedly cheated on her in Nashville per their source.
The 31-year-old Vanderpump Rules star moved out and is staying at the Beverly Hills Hotel with their 7-month-old daughter, Ocean.
"Randall always lives a double life," the source claimed. "He lives the life of a husband or boyfriend, and then he lives the life of a serial partier and then goes on a bender."
Well lets remember, Randall did cheat on his first wife with Lala back in 2017 so is anyone shocked?
The tell-tale sign that a breakup announcement is eminent is the social media purge. Over the weekend Lala removed all traces of him from her Instagram page.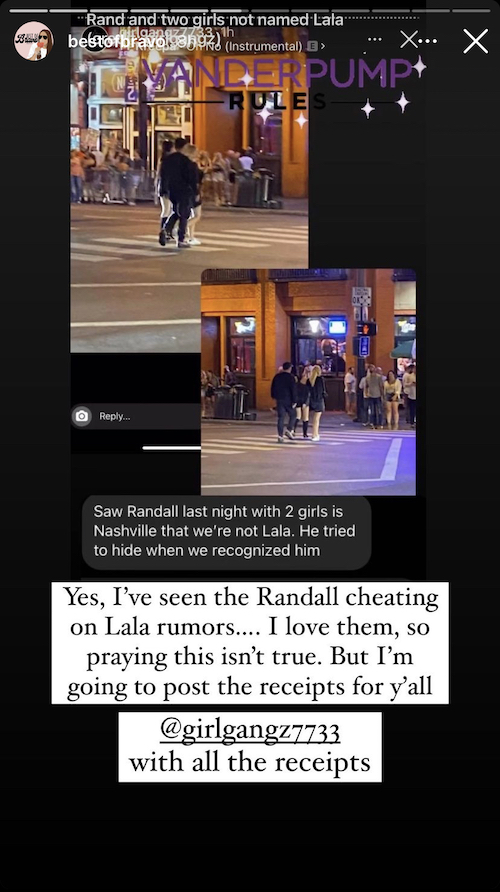 Videos and pictures of Emmett in Nashville with two women recently surfaced on Instagram and Twitter…very reminiscent of the pictures of Randall and Lala that began circulating before his divorce to actress Ambyr Childers.
Kent also shared a telling video of two friends helping her move into the hotel with Beyoncé's "Sorry" playing in the background with the lyrics, "Now you want to say you're sorry / Now you want to call me crying / Now you gotta see me wilding / Now I'm the one that's lying / And I don't feel bad about it / It's exactly what you get."