Albie Manzo gay rumors?
I recently rediscovered the Real Housewives during Covid quarantine after a few years sabbatical. I wasn't a big fan of Real Housewives of New Jersey until the second time I binge-watched the series on Hulu.
And became intrigued with the salacious details of their real lives.
So I started digging in to the forums where occasionally an insider chimes in with a very good nugget of info.
And that is exactly what I stumbled upon after searching for dirt on 34-year-old Franklin Lakes heart-throb Albie Manzo.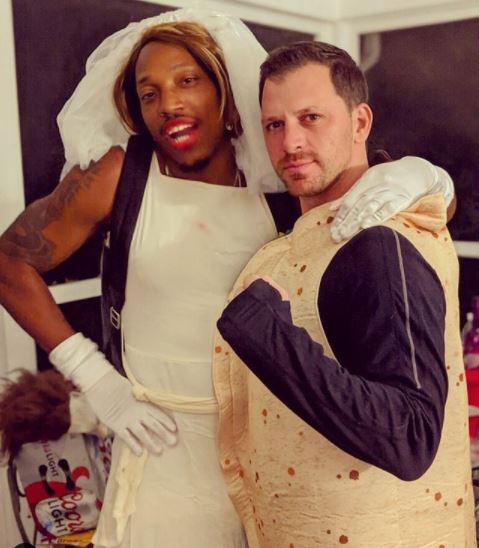 Two years ago someone with the screen name "Bionic Woman" posted on Lipstick Alley the following anecdote about Albie.
Granted, I can't be certain the person he is talking about was in fact Albie. But it sounds pretty believable to me after watching the series.
"The irony that I stumbled upon this thread tonight. It's actually Albie who is gay and been living a "Down Low" lifestyle. My very close gay male friend who lives in the Bay area, and his friend decided to hook up with a guy they met on Grinder for a threesome."

"When the guy got to their house, he was wearing a hoodie and introduced himself as "Al" and said that he was from Franklin Lakes, NJ but he was out there in San Francisco, on business for a few days."

My friend told me that he recognized Albie from somewhere but couldn't remember where. My friend couldn't get into the whole threesome idea once it was about to happen so he backed out and let his friend and Albie go at it."

"However, during the entire time, he said Albie really seemed into him and wanted him to join in, but he wouldn't. He said that Albie was really well endowed (9 inches) which also made him hesitant to go through with it.

"It wasn't until Albie left, that my friend finally figured out who he was. This happened about a week ago."
……I heard another rumor that Dina's ex-husband who is Al Sr.'s brother is gay as well, but I don't know whether there's any truth to that.
I have to wonder though if Caroline or any of the other Manzos suspect that Albie's Gay, and they just turn a blind eye, or if they really have no clue at all."
I love the tidbit about his extra large package! As if gay guys couldn't get any more excited about New Jerseys hottest reality star.
I realize Albie did recently get engaged, but I think we all know that means nothing.
Seriously, after watching the series a second time with a fervent interest in Albie's sex life, I noted a number of possible clues:
One, his obsession with his best friend Vito Scalia.  And how upset he was when Vito started dating his sister Lauren. Al definitely came off as a very jealous lover and not just a protective brother.
Two, Albie's lack of a serious girlfriend or interest in even having a girlfriend. When he did get that adorable cheerleader girlfriend he tired of her the minute she moved in.
Three, best friend Greg Bennett is gay. Not that a straight guy can't have a gay best friend, but it's one more detail in a growing list.
As for Tommy Manzo…that is interesting. I had considered that since Tommy's marriage to Dina was beyond bizarre. They literally never saw each other. I saw on another thread that Dina actually married Tommy to get on another reality show and that their marriage was always an arrangement. I will definitely have to look in to that situation!