Tonight on Married at First Sight: 6 months Later we got an official update on one of our all-time favorite Bachelor contestants  Jamie Otis and her new husband Doug Hehner. Jamie and Doug met with Kevin Fraser and the experts who brought them together – sexologist, Dr. Logan Levkoff; spiritualist, Greg Epstein; psychologist, Dr. Joseph Cilona; and sociologist, Dr. Pepper Schwartz.
Jamie Otis and Doug Hehner: still married!
The two revealed that they decided to stay together and more importantly that they have finally consummated their marriage! PHEW!!! Up until the very last episode the two still had not had sex. So everyone was really curious if the two had made it to the Fantasy Suite yet. The 27-year-old nurse appeared blissfully happy tonight with her new husband of 6 months.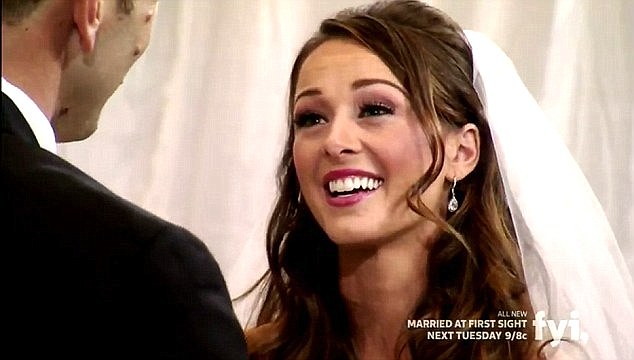 "The fact that Doug never, ever pressured me . . . that was by far the hottest trait," Jamie says.
Doug proclaimed: "It feels better when you have that connection". He also took the opportunity to let us know that he was glad that Jamie worked nights because it gave him "time to release"! Heyooooo!
In fact Jamie cried tonight as she expressed how Doug had been so patient and loving with her throughout the whole process and how bad she felt for being so mean to him.
She also made a comment about being on The Bachelor! — saying that The Bachelor was so much different because there was no real time to connect with your proposed life-partner during the 9-week journey. She also said she would "never do the show again". OUCH!
I just wanna know if Doug got the lap dance!
So we know that the couple is currently living in Washington Heights but looking for a place in New Jersey to be closer to Doug's work and family and to start a family together! The two have been busy practicing their baby making skills according to their tweets.
Related articles