ABC Bachelorette season 11 Updates:
Who is Bachelorette 2015 contestant Nick Viall?
No this is not about Bachelorette season 10 Andi Dorfman's season, this is about right here, right now season 11 Kaitlyn Bristowe, and Britt Nilsson. 34-year-old Nick Viall rose to fame on Andi Dorfman's season of The Bachelorette as the runner-up and a runner up that did not bow out gracefully. He was determined even after Andi chose Josh Murray to win her final rose, even pursuing her with a letter that he unsuccessfully tried to deliver at the Men Tell All Show.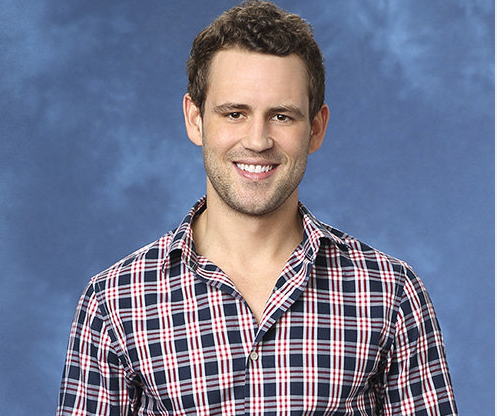 He also made the major faux pas of revealing that Andi Dorfman had sex with him right before choosing Josh Murray. Thankfully Andi did not take out a restraining order on Nick and he is now back to compete again for love.
So who is Nick Viall and what is he doing back?
The Chicago, Illinois account executive at Salesforce.com is the oldest of eleven children born September 29th, 1980 in Milwaukee, Wisconsin (Waukesha, Wisconsin) so he is a Libra.
He is obviously very determined, ambitious and driven (perhaps the result of having to compete with 10 siblings!) He is an Enneagram 3, the Achiever when healthy. When in stress or disintegration Nick becomes the status seeker and a bit of a diva. He also rocked the famous man-scarf on season 10 of The Bachelorette and he apparently had a big crush on contestant Kaitlyn Bristowe on Chris Soules Season.
The 6′-2″ University of Wisconsin graduate comes from a pretty Conservative family that lives in Waukesha, WI. His mother Mary Viall, is a Home Decorator. His father Christopher Viall works for Ries Graphics Ltd. He has sisters: Jessica Viall, 35, Sarah Viall, 28, Teressa Viall, Maria Therese, Teressa Viall and brothers: Luke Viall, James Viall, Samuel Viall.
The youngest sibling is a 9 year-old sister.
Nick was engaged at one time, but broke it off, because he did not want to settle.
He walks on to Kaitlyn's season at Chelsea Pier and the two were definitely making out. So he at least sticks around for a few episodes. Nick had been flirting with Kaitlyn on social media prior to doing The Bachelorette and the two had even met. So the other guys are not going to be happy when Nick appears on the show.
Kaitlyn Bristowe contestants bio page