Who is Erika Jayne's new boyfriend Michael Gaughan? And how rich is he?
Fifty-year-old sex kitten and RHOBH star Erika Jayne is back in the dating world. And if you thought that after dumping her 82-year-old dinosaur husband Tom Girardi, that she would start dating more attractive men, closer to her age, you would be wrong. Erika is back at it … dating another unattractive, yet rich and powerful oxygenarian.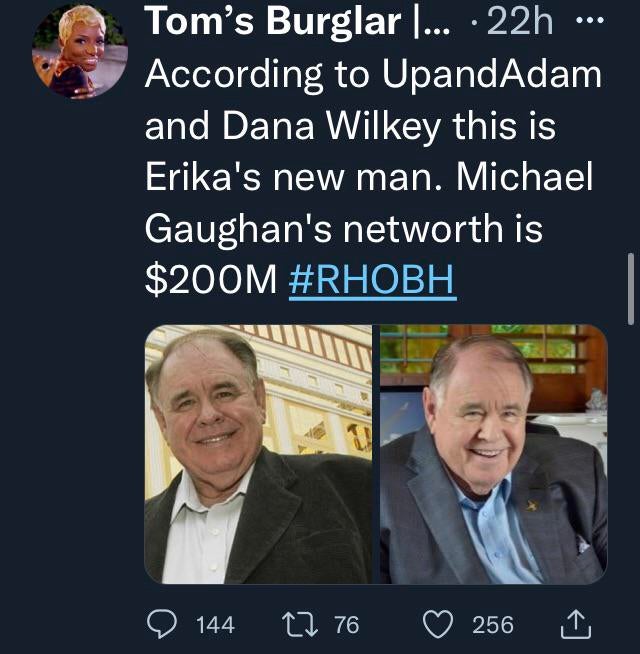 Erika is allegedly dating 78-year-old casino owner Michael Gaughan according to former RHOBH star Dana Wilkey. Dana told her Patreon users on her September 23rd Podcast Dishing Drama with Dana Wilkey UNCENSORED, that some insiders told her Erika is with Mr. Gaughan — which would make sense since she recently returned from a trip to Las Vegas and because she is broke and in desperate need of a sugar daddy.
So who is Michael and how rich is he? Gaughan, is one of few remaining "old-school" Las Vegas casino operators.
He was born Michael John Gaughan on March 24, 1943 in Omaha, Nebraska to mother Roberta Mae Gaughan and father Jackie Gaughan. Jackie was a larger than life power broker as well. He was the owner of a NASCAR race team, South Point Racing. And was also a casino owner and operator from the early 1950s in Las Vegas, Nevada.
Anyhoo, Michael is rich, very, very, very rich. His estimated net worth is $200 million dollars — although I bet that number is low.
Gaughan opened the Barbary Coast Hotel and Casino in March 1979 at a cost of $11.5 million. 
He is also the owner of those cacophonous, clanky, slot machines that litter the McCarran International Airport.
In 2004, he sold Coast Casinos for $1.3 billion to Boyd Gaming and in July 2006, Michael bought Boyd gaming for an estimated $576 million.
I guess if Erika was looking for "protection", she probably went to the right place. I am not here to judge, but this guy looks a tad bit creepy in my humble opinion. And a tad bit…….mafia? I am flashing back to the scary threats Erika launched at Sutton Stracke implying she could really hurt Sutton if she wanted to.
'If you ever call me a liar again, 'I'm coming for you.' Erika tells Sutton at Kathy Hilton's dinner party.
"Trust me," she added.
Sutton accuses Erika of threatening her to which Erika responds…
'Don't push unless you are ready to get pushed back on'.
Was Erika thinking about siccing her new beau on Sutton?
Rumor is Erika has known this guy for quite a while which makes my mind spin in all kinds of crazy directions…like prior to her epic fall were her and Tom working with Michael to threaten any perceived enemies?
I am also flashing back to the episode where Erika tells the ladies she has left Tom and will wait exactly 90 days to get back in the saddle and start having sex again. Is this what she meant???
Was Erika having an affair with Michael for some time? Don't get me wrong. I don't think for one second that Erika is physically attracted to this gross geezer, but Erika is a girl with a plan A, plan B, C, D and so on. It is "expensive to be her" and maybe this casino gangster was happy to throw some big cash her way in exchange for some sexy time.
He also looks like a guy with some very big connections–as in someone who may be able to make lawsuits and federal investigations go away.
Stay tuned for more details on this rather disturbing new development.
Please follow us on Twitter