You can always count on Kelly Dodd to swoop in and dish the real dirt on the goings-on of the Real Housewives of Orange County. And this latest 'Botched' boob job situation is a doozy.
Heather Dubrow was clearly beside herself on Wednesday night after Gina Kirschenheiter informed her that newcomer Nicole James had sued husband, Dr. Terry Dubrow over an alleged botched boob job.
Of course the worst part of the situation was that Gina made the accusation prior to the serving of the very expensive and very delicious Nobu sushi and as a result Heather shut everything down for hours while she consulted with a team about how to handle the brutal and potentially ruinous jab at Dr. Dubrow.
(This somehow meant that the sushi could not be eaten by anyone! This is another mystery that someone needs to get to the bottom of.)
Anyhow, Heather had to literally pull out all the stops since Terry makes millions off of his apparent unimpeachable reputation and that 21 million dollar mansion did not pay for itself! Although the $36,000 sushi apparently did—Dodd claims the cost was covered by Bravo.
So even though a very terrified Nicole brushed everything off and said it was all a "miscommunication", she did start off by telling the ladies that she had a very bad botched boob job years ago that required five surgeries to properly fix. Thus, it appears more than a "miscommunication".
Also, Terry says "you sued me"…so we know she did "sue him". And Terry said "you had some real complications". Thus Terry is acknowledging something was wrong—of course he doesn't claim it was his fault, but we know something bad happened to Nicole's boobs years ago.
Additionally, if she did sue him, it very likely settled and she would have signed an extensive NDA, thus she would not be allowed to tell people how bad Terry's job was if it was in fact Terry's fault. That also would explain why she "dropped the suit".
I generally would take a complaint like that with a grain of salt given how often patients can blame doctors for things that are not their fault or not a big deal, but there was enough here to suggest something bad had happened to this girl during a breast augmentation.
Anyhow, the entire thing made me very curious about Dr. Terry Dubrow. Was it possible that he is not the consummate professional surgeon he appears to be? Are there other complaints out there. That of course sent me to Yelp (I can't believe I didn't think of that earlier), but yes Yelp is a treasure trove of detailed complaints from what appear to be legit patients. Additionally I found a few court dockets on current suits as well as an official Federal document from The Defense Health Agency (DHA) that bans Terry for 10 years from TriCARE aka military vets because of repeated misconduct in the handling of payments.
I'll start by saying, obviously Dubrow has done tons of surgeries so maybe it isn't fair to judge him by a few scathing Yelp reviews, but if I were in the market for a plastic surgeon, I definitely would think twice about Dubrow after reading the reviews. But first to Kelly Dodd.
Kelly also pointed fans in that direction back in November. 
"You threatened to sue me twice [Dr. Dubrow] so why all the hostility toward Nicole? She apparently got a botched job which you should be very familiar with based on your Yelp reviews," Kelly tweeted on November 8.
Kelly also defended Shannon for bringing the boob job to light:
"[Gina Kirschenheiter] is the big mouth not [Shannon Beador] we all know things about everyone Gina has bad posture and no storyline," she wrote.
Here's just a few of Dubrow's bad reviews. There are a lot more!
"STOP! READ THIS! WARNING!
If you are searching for a skilled, competent surgeon, HEED MY WARNING! Do NOT LET TERRY DUBROW, MD near you! He will BOTCH the surgery. He performed a facelift, Rhinoplasty, and eyelifts, upper and lower. And because of his complete lack of skill, I now have complications so severe that it will require another surgery to reconstruct the damage that he's caused, estimated at $33,000. And that's just for my nose!
And he informed me he no longer performs rhinoplasties! Yeah! There's a reason for that! HEED MY WARNING! He's not the charming, caring, concerned OC husband, do-good doctor you see on TV. Well, he is before he's paid in full his $30,000! During your consultation, he and his staff will make you feel as if you're part of the family. They gain your trust.
You feel like you've made the right decision. All that ends once you've had surgery! Post-surgery visit lasted all of ten minutes. Okay. Follow-up visits were quick. And when I tried to voice my concerns, I was given the generic recommendation, "Give it time. A week, a month, a year."
Sure! Maybe that's true. But not with this doctor, not in my case, and not in the many other patients he's ruined! Please research CA Orange County Courthouse docket.   I trusted him! I followed all his recommendations! I had follow-up visits because the sutures in my eye kept coming loose – FOUR TIMES!
And now, in his incompetency at its worst, I have been forced to seek consultations with another plastic surgeon who has informed me that my nasal cavity has completely collapsed on the right side blocking the airway and the left is partially collapsed.
AGAIN! DUBROW NO LONGER DOES RHINOPLASTIES!!! He wants another $33,000 from me to have a different surgeon in his office fix it!! (THERE WAS NO WAY I WAS GOING TO LET HIM DO SURGERY ON ME) And when I asked if he would be reimbursing me for a portion of the surgery, I was told that the $33,000 already included a 10% discount. 10%!!! Are you kidding me?! 10% is all he'll reimburse me for a clearly BOTCHED surgery!
He does NOT take responsibility for his surgeries gone wrong and shows zero concern for your wellbeing. Do not go to Terry Dubrow MD!  I will be filing a complaint with the FTC.GOV and MBC.CA.GOV. If you are still considering him, please go to the above-mentioned sites and search for the filed complaints to read, and the two court cases filed by unsatisfied patients suing him, going on at this moment."
Here is another:
"Unfortunately, I did not research and read reviews on Dr. Dubrow prior to my surgeries. I had watched his botched show and assumed I was going to one of the finest plastic surgeons in Orange County.
I had old implants removed and replaced with new implants, a breast lift, areola reduction and a tummy tuck. 
I had one post op appointment with Dr. Dubrow which lasted 10 minutes and he said everything looks great. I had two follow up appointments with his nurse. I expressed my concerns as an area of the tummy tuck sutures were leaking fluid and scabbing up.
His nurse basically said don't worry about it the skin will heal together. The skin never did heal together and now I have what I call a second belly button.
Also, the scarring around my nipples is awful. The scarring for the uplift, implants and are hideous. I had small 2″ scars under my breasts when I had my first implants and now I have huge scars encompassing the entire length under my breasts. The emotional and physical scarring has affected my personal life as it's so embarrassing to be intimate with anyone. This doctor is so overrated and overpriced!"
Here's another:
"I went to Dr Dubrow after seeing his show "Botched" on TV. Usually I m not impressed by a TV doc but I had seen many results on his show thinking he would be the one to help me. I  gave birth to my beautiful daughter but as most of you know, kids can alter your physique.  Long story short, I  had my silicone implants removed as per his advice by Dubrow after 20 years …. My breasts were fine before but I  was consulted that I needed to have my implants removed after such a long time.  
Let me tell you that my friends, family and significant other all have said that I was better off before. I underwent surgery w Dubrow. He incorporated his "special Stich" on my areola,…after I healed, btw I had holes from the stitching that had puss up to date oozing out of stich scars.
Not only that but my breast are deformed. I called his office only to be told that this is a side effect and that I  needed to pay the full price of 25K to fix it. Steer clear of those hocus pocus TV docs. Botched doc will botch you. He and his staff have no compassion.
They want to make their money and commission and could care less about the well being of their clients.  He is a narcissist and  he and his staff are only concerned about himself and phony housewife image."
Here are 2 current lawsuits:
1: Sandy Scoggins v. MD Terry Joel Dubrow et al
2: On 12/19/2018 TINA ANDRADE filed a Personal Injury – Medical Malpractice lawsuit against TERRY J DUBROW. 
And I also found this nugget from DHA–the Defense Health Agency:
"During 2018, DHA excluded one provider under its own authority. The following provider was excluded:
Dr. Terry J. Dubrow and Rox Surgery Center, California – 10 Year Exclusion.
On 5 October 2018, Dr. Terry J. Dubrow was excluded as a TRICARE Authorized Provider for a period of
10 years. The exclusion is based on Dr. Dubrow retained the beneficiary's advance payment, despite
being made aware on multiple occasions that his actions were contrary to Federal regulations put in place
for our military members who have sacrificed so much for their country. This administrative action was
invoked under 32 CFR 199.9(f)(l)(v), which is in the best interest of TRICARE and its beneficiaries."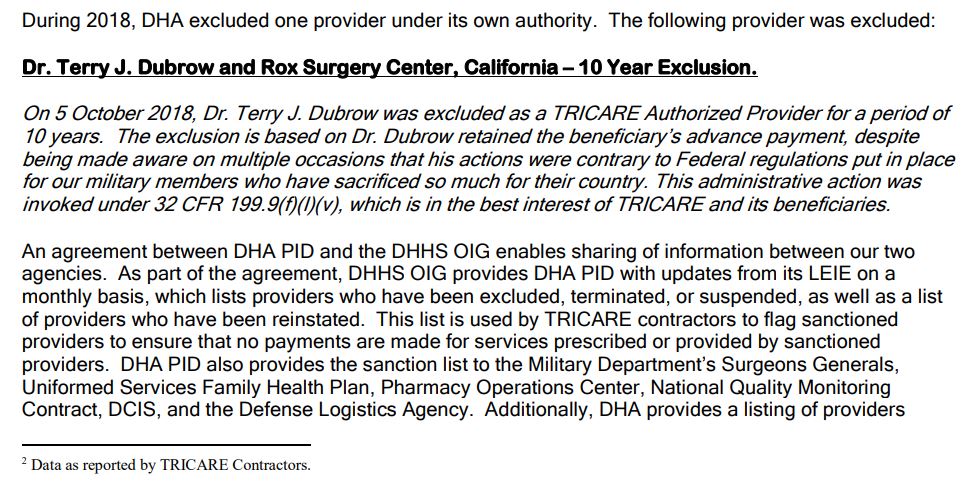 Yikes! I don't understand exactly what that means, but I suspect it means he made military vets pay in advance for surgeries that would be covered by TRICare.
And I get that Doctors often get sued or in trouble for various things, but it's interesting that in their own words, in 2018 DHA "excluded one provider under its own authority"–Just ONE and it was Dr. Terry Dubrow. That is pretty shocking considering their are 1000s of doctors under DHA authority.
I will continue looking in to this situation!
Please follow us on Twitter