LiB S3: Colleen Reed and Matt Bolton — Married or Broken Up?
Things have not exactly been smooth sailing for Love Is Blind season3 stars Colleen Reed and Matt Bolton. In fact, they only really started their relationship toward the end of the Pod time after Colleen was rejected by Cole and Matt seemed to spend most of the time comforting her about their breakup.
Matt definitely seemed all in with the 26-year-old PR strategist from the start but he comes to the relationship with a serious chip on his shoulder after his high school sweetheart turned wife cheated on him.
The 28-year-old Private Charter Sales Executive had previously spent his entire adult life with his ex-wife who not only cheated on him, but she got pregnant with the other man's child.
Understandably, Matt is jaded and a little on edge.
And Colleen is still reeling from being rejected by Cole. Other than that, once they meet in person they seem pretty copacetic sans one pool situation where Cole Barnett told Colleen that his chosen life partner,  Zanab, 32, was not "physically" his "type" and that she was.
Matt interrogates her about what was said and then declared, "I've been played before, I get it." 
The disclosure sent Matt in to a tailspin and a meat carving frenzy.
But they smooth things over and prepare  to meet Colleen's parents who fly in from Pennsylvania.
Colleen's mom tells Colleen that she's concerned she's holding in her feelings. Colleen replies that things have been rocky.
Next the couple heads to a very extravagant date inside of a very claustrophobic aquarium where Colleen finally opens up to Matt.  She tells Matt that she's scared he will run when things get tough.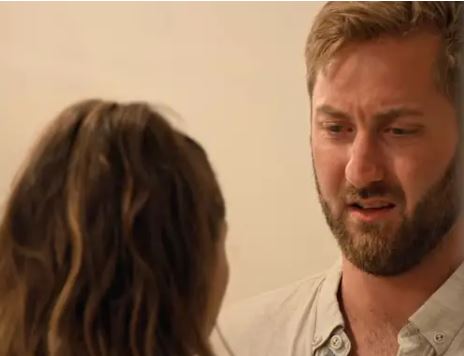 Matt, who clearly has abandonment issues, gets incredibly distressed and aggressive pressuring her to "say it." To which Colleen says that right now she doesn't see herself spending the rest of her life with him.
That of course does not bode well for next weeks episode. It's hard to imagine that the couple turned things around in a few days.
And if you are curious if Colleen Reed and Matt Bolton are still together — well we have to wait until Wednesday to know for sure, but here are some clues from social media:
On Instagram on October 29 Colleen posted a photo of her and Matt walking together and captioned: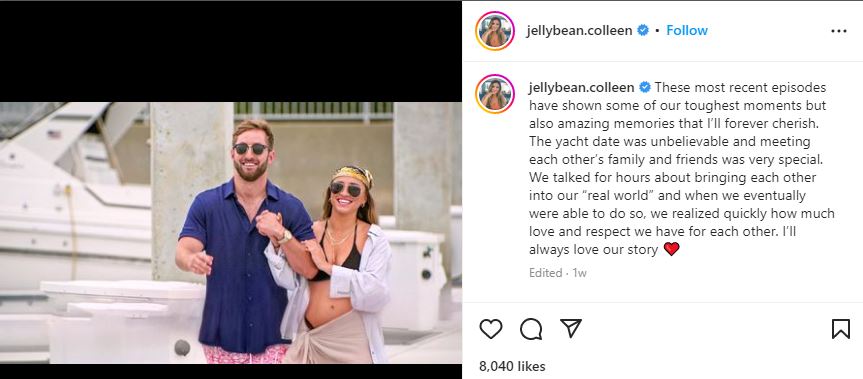 "These most recent episodes have shown some of our toughest moments but also amazing memories that I'll forever cherish," "The yacht date was unbelievable and meeting each other's family and friends was very special. We talked for hours about bringing each other into our 'real world' and when we eventually were able to do so, we realized quickly how much love and respect we have for each other. I'll always love our story."
Matt on the other hand has not posted much about Colleen. He simply thanked fans for "all the love" on October 24. That makes me think Matt is a 'yes' and Colleen is a 'no'.
New episodes of Love Is Blind season 3 are available to stream on Netflix on Wednesdays.