Wow! the plot thickens in the team JEM scandal. Now ex-girlfriend Kaylee Shepard claims Emily Maynard cheated on Jef Holm with Matt Leinart . UsWeekly ran the story alleging Matt Leinart, the 29-year-old Oakland Raiders quarterback (and Bachelorette 'sext addict") at the center of the Bachelorette sexting scandal was allegedly receiving a lot more than sexts from 26-year-old single mom Emily Maynard.
Kaylee Shepherd, the heart-broken 21-year-old at the center of the Jef Holm cheating scandal is speaking out to US Magazine claiming Mike Holm was telling the truth and Jef told her so. "He said the story was 100 percent accurate," …"When she put her phone down, [Jef] picked it up and read through everything. . . Jef said, 'It was that pro football guy . . . She strung me along and was talking to another guy the whole time!'"
But we know the two are still together. In fact they are here in San Diego now at the SD Film Fest with People Water so how could they be so good at faking it?
Keep in mind there is a lot at stake with the Team JEM brand. ABC desperately needs things to work out for the two beloved lovebirds. The Bachelor franchise needs a successful couple for the love of God!!! Ryan and Trista Sutter can only take the Bachelor franchise so far. The Team JEM brand could also potentially mean millions for Jef's start-up People Water.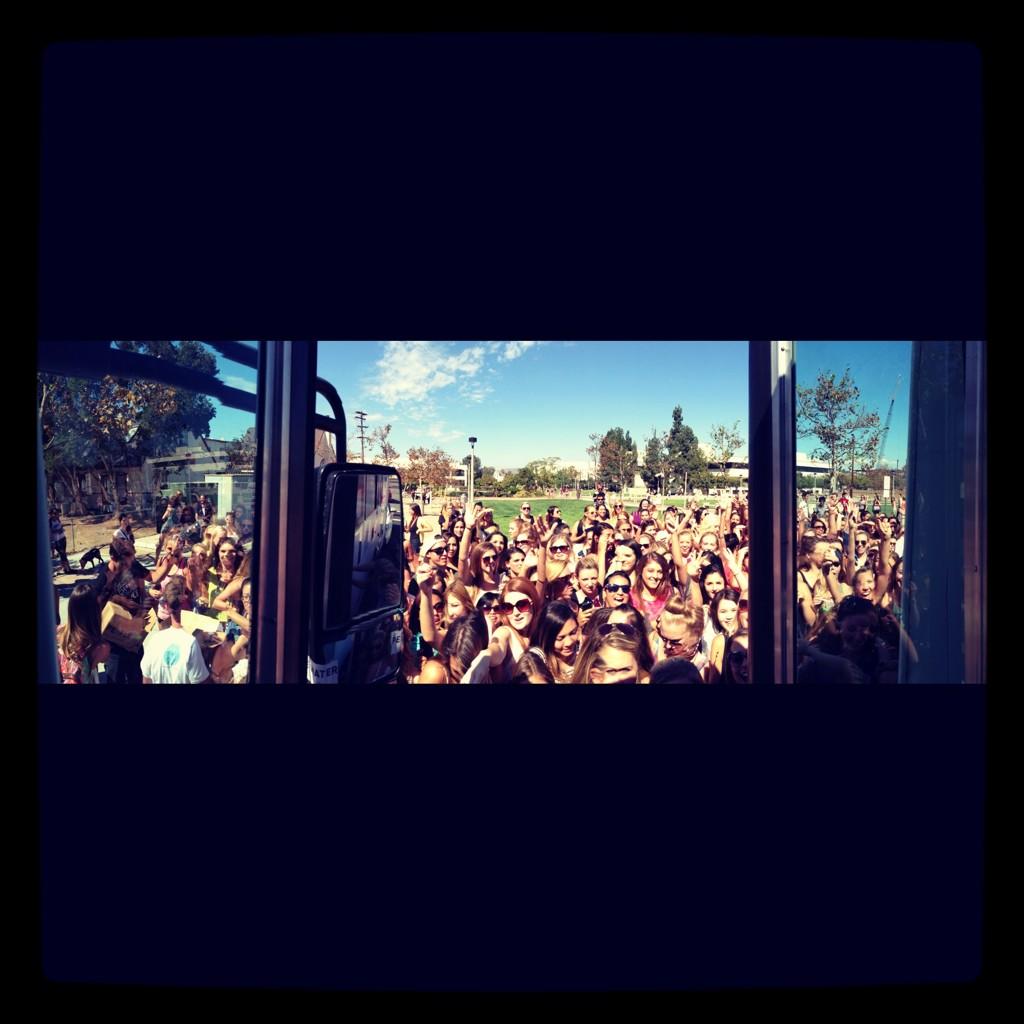 BTW apparently People Water was over at San Diego State University over the weekend and it was a total mob scene of young college co-eds. Can you imagine that happening with another brand of water!!? Look at this pic. Good God!
So despite the doubters I am leaning towards believing this latest round of rumors for the following reasons.
1: We have Jef's brother Mike Holm coming forward (it's one thing for a nameless source, it's another when it's a family member that loves you talking to the tabloids).
2: Kaylee Shepard doesn't sound like an opportunist. She sounds like a girl that got dissed….twice…."fool me once…..fool me twice".
3: If Jef feels betrayed and "led-on" he is likely to want a cut of the ABC Team JEM fortune which all goes to Emily at this point.
4: People Water stands to make millions off Team JEM and why wouldn't Jef takes these lemons and make some lemon-aide?
5: The producers have a lot at stake and may be involved in the cover-up (we LOVE a Bachelor conspiracy).
6: Kaylee Shepard allegedly received a text from a 213 (L.A.) area code telling her to keep her mouth shut–this may be what sent this mild-mannered sweet girl over the edge and to the tabloids.
Kaylee Shepard claims in her US Weekly interview "Jef said their relationship isn't what it seems." — And I think she may be right.
Wow! what a bombshell of a situation!

Loading ...
Related articles