Bachelor Colton Underwood comes out as gay
I guess twenty-eight-year-old former Bachelor Colton Underwood really was "making love out of nothing at all" when he proposed to Cassie Randolph on the 2019 season of The Bachelor, because today he is telling the world he is gay.
Colton dropped the bombshell to Robin Roberts on "Good Morning America" saying
"I've ran from myself for a long time. I've hated myself for a long time … and I'm gay. And I came to terms with that earlier this year and have been processing it. And the next step in all of this was sort of letting people know."
Sadly, he claims his struggle with his sexuality almost led him to commit suicide:
"I got into a place for me in my personal life that was dark and bad and I can list a bunch of different things but they'd all be excuses … I would have rather died than say I'm gay and I think that was sort of my wake-up call."
"There was a moment in L.A. where I woke up and I didn't think I was going to wake up. I didn't have the intention of waking up and I did. And I think for me that was my wake-up call … this is your life, take back control."
I called this one back in 2018 when the former NFL player appeared on Becca Kufrin's season of "The Bachelorette" and disclosed that he was still a virgin at age 26!  A hot, young, NFL player is a virgin?
The Bachelor also poked a little fun at the big pink elephant in the room in 2019 when he was on a group date with Demi (who funny enough, later married a woman on BiP), Bri, Tracy, Elyse, Hannah G., Nicole, Onyeka, and Catherine at a comedy show at the Regent Theater in Hollywood.
Megan Mullally and Nick Offerman tried to make everyone comfortable with the unusual situation. But don't worry, the only person that was uncomfortable was Colton. The ladies were too worried about getting a rose to even notice that their big prize was playing for the other team.
And it's not like he had not had serious girlfriends before. He dated US gymnast Aly Raisman very seriously, yet never introduced her to his family!
Unfortunately, Colton has recently been in the news for his very messy breakup with Cassie Randolph.
He apologized for that in his GMA interview, and told Roberts that he says he remembers thanking God once he was picked as 'The Bachelor' because he believed his prayers to be straight had been answered.
Now I am feeling a little sorry for ragging on Colton in the past. He just came off as so douche and opportunistic I couldn't help but poke a little fun.
I am also wondering why Colton is now coming out so publicly? It may be totally genuine, but I have to wonder if someone has some blackmail on him and was threatening to go to TMZ unless some extortion was paid.
Perhaps a jilted boyfriend will come forward soon or perhaps Colton will be cast as the first OFFICIAL gay Bachelor.
That would be amazing. It's hard to know where this franchise is headed in this day and age with all of this gender and sexual fluidity. I think it's more fun this way…watching a man try and find love in 9 weeks with a woman and then unexpectedly falls in love with another male costar instead or vice versa.
We are in unchartered waters Bachelor Nation!
Colton may be the first former Bachelor to officially come out, but I seriously doubt he is the first gay guy to lead the show. Remember Jake Pavelka? In 2009 Jake was spotted with Bachelor Pad contestant Juan Barbieri at West Hollywood gay club acting like a couple!  Get ready for season 2 of On The Wings of Love…this time with a twist.
UPDATE: Colton WAS being blackmailed!
Underwood talked to Variety about after how he began going to a gay spa in Los Angeles he received an anonymous email claiming to have nude photos of him there.  The person threatened to out him to the press.
The emails prompted him to have a heart-to-heart with his publicist and to seek treatment in therapy. He also created a Grindr under an alias, before coming out publicly.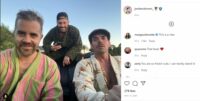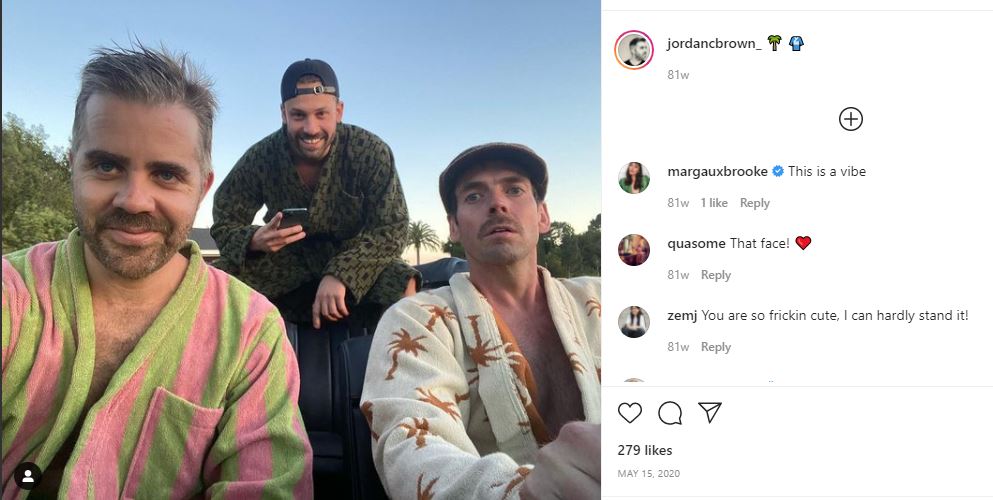 UPDATE 12/04/2021: Colton is dating political strategist Jordan C Brown.