Its hard to believe that it's been six months since Love Is Blind season 2 aired, but it has. And some couples made some pretty serious heartfelt decisions at the time so the latest After the Altar 3 show series that debuted Friday on Netflix gave us a glimpse into where these couples are at now in their lives or at least where they were at when they filmed After the Altar semi-recently.
One couple that I was surprised to see giving it a go was Deepti Vempati and Kyle Abrams, not because they don't seem well suited but because at the beginning of the show and all the way up to the end Kyle seemed unwilling to get out of the friend zone with Deepti and seemed to be offering some trite excuses which made me think Kyle just wasn't in to her and used her to stay on the show
Anyhow, if you watch the special at the very end it appears that Kyle and Deepti make the decision to take things to the next level romantically. Cut to Monday, 3 days after the series premiered and they just announced that they have broken up..
Kyle Abrams announced on Instagram Monday that he and Deepti Vempati are going their separate ways and are no longer dating…and that Kyle already has a new girlfriend!
"I understand many of you are curious as to where Deepti and I stand today," he wrote. "Since After the Alter was filmed, we had decided to go our separate ways in early summer."

Then Abrams announces that he has a new girlfriend "I have since embarked on a new relationship which I intend to keep private for a bit," he wrote.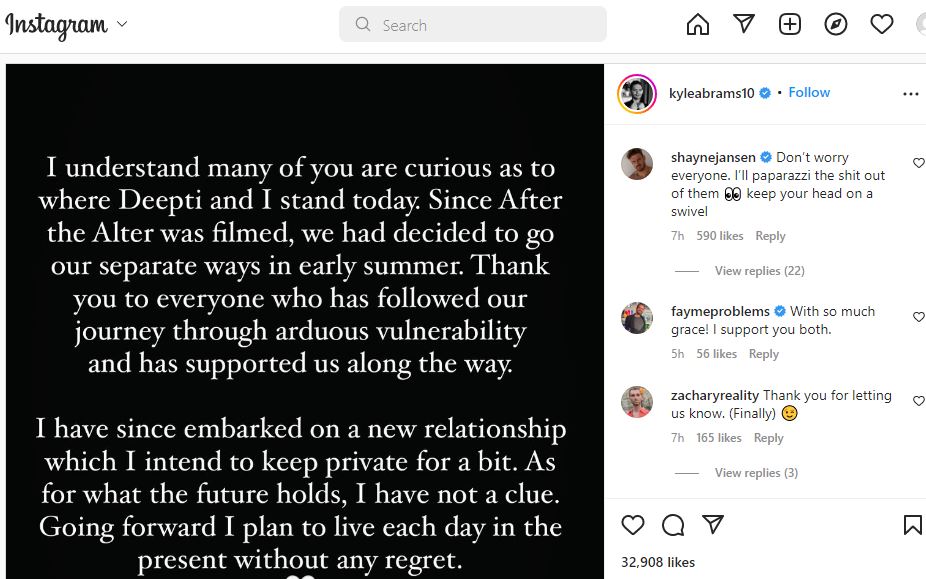 Vempati, 31, has yet to comment.
And in fact since the taping of After the Altar both married couples, Iyanna McNeely and Jarrette Jones and Danielle Ruhl and Nick Thompson, have called it quits.