Name: Bartise Bowden
Full Name: Robert Bartise Bowden
Age: 27
Hometown:
Dallas, Texas. Grew up in San Antonio, Texas.
Job: Senior Analyst
Show: Netflix's Love is Blind Season 3
Education:
Birthday:
Bartise was born on July 16, 1995, to father Robert Bowden and mother Penny Barden.
Funny enough his parents, met when she was engaged to another man. Bartise is named after a friend of his father's who died in a motorcycle accident.
His sister is reality TV star, Amalia Bowden whose became engaged to James Lockhart in January 2022.
Zodiac:
Nancy's mother asked if he was Puerto Rican and Bartise told her "no" his ethnicity is half black, half white. Bartise' father is black and his mother is white.
Instagram: bartiseb
Love is Blind fiance: Bartise is engaged to Nancy Rodriguez
Nancy Rodriguez Love is Blind S3 Bio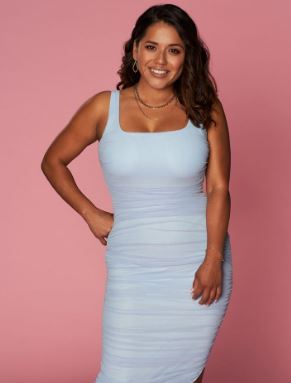 Name: Nancy Rodriguez
Age: 32
Hometown: Dallas, Texas
Show:Netflix's Love is Blind Season 3
Job: Real Estate Investor
Nancy's ethnic background is Puerto Rican
She graduated from Temple High School in Temple, Texas in 2008, where she performed as the school mascot.
"For her to tell me she's going to get married in the next 30 days. It was like okay don't pass out, don't pass out," her mother, Erendira Diaz told KWTX News 10 in October 2022.
Her mother continued, "I couldn't believe it because she told me she didn't believe in marriage. So for her, doing it I was like okay baby I'm not going to say much, but I'm here to support you."
As of October 26th, episode 7, Bartise appears to have lost interest in his chosen life partner and seems to wish he had chosen the other woman that he had chemistry with in the Pod, Raven Ross who got engaged to Nigerian born SK Alagbada.
But surprisingly Raven blows off Bartise not so subtle advances and claims she is disgusted by him. But things change on LIB on a dime so who knows as of now.
Stay tuned….